Non-alcoholic beverages: Financial and health assets
The non-alcoholic beverage sector plays a pivotal role in the global economy, as one of the top-performing food and beverage (F&B) sectors. According to the American Beverage Association, the direct impact of the industry accounts for 182.6 billion dollars (in the US alone). Among others, soft drinks, juices and functional drink products rely on high-quality ingredients and raw materials, strict supplier partnership schemes and conformity to a wide range of quality and safety standards.
Recalls: A major roadblock over the last decade
When it comes to food safety, there have been several recall incidents over the last few years associated with non-alcoholic beverages. Especially during the last decade, incidents relating to chemical hazards are the top concern in the non-alcoholic beverage sector, with food additives and flavourings being among the main associated ingredients that have been reported on a global scale.
TheFSM platform: Empowering data sharing and food safety
Based on these facts there is a need to evaluate the impact of this challenging period for the global supply chain. As so, our EU funded project (under Horizon 2020 Framework) "The Food Safety Market", is taking a deep dive into the food safety data insights. This gap is what our platform aims to mitigate, by facilitating and improving business processes that are data intensive and that are currently performed in an inefficient manner. The major pillars and applications that are foreseen to be joint under TheFSM platform are the FOODAKAI, AGRIVI and Food Inspector, enabling the measures towards data sharing and food safety. Regarding the lattest, FOODAKAI's utilization will allow food companies map, manage and view data coming from control points in their production lines that are important for their procurement, QA and certification. Through this application they will be able to monitor, trace and predict risks in their production lines, submit and exchange data with their inspectors, request and view data coming from their suppliers to inform supplier check and risk assessment, etc.
What are non-alcoholic beverages?
The most popular types of non-alcoholic beverages are soft drinks; fruit juices and juice drinks; and a rapidly growing subsector of functional and energy drinks which includes drinks enriched with vitamins and minerals, sports and energy drinks, as well as wellness drinks and nutraceuticals. Many of these have been developed to provide specific medical or health benefits, such as acting as energy boosters, improving digestion, enhancing immunity, or promoting heart health.

---
Data on hazards
As one of the largest F&B sectors, it is inevitable that there are a number of hazards to stay informed and vigilant of – and a combination of data orchestration and remote monitoring tools are the key to overcoming these.
Data available from 47 official sources – for example, the European Union RASFF, the Australian Competition and Consumer Commission and the Republic of China Import Refusals – provide useful insights on the top emerging hazards for non-alcoholic beverages and the associated ingredients for a period of ten years (2008-2018).
Overall, there was relative stability in the number of recall and refusal incidents over the last decade. However, between 2017 and 2018, the number of incidents skyrocketed, presenting an increase of almost 200%.
What can we learn from these historical events to protect for the future of the soft drinks supply chain?
---
Additives and flavourings – a changing landscape
Food additives and flavorings are the most common hazard category with the largest quantity of recall and import refusal incidents during the last five years, accounting for 354 incidents. This category includes hazards such as high concentration of food additives like benzoic acid and sodium benzoate, unauthorised use of colourings in non-alcoholic beverages, (e.g. E122 – azorubine), high content of sweeteners and unauthorised use of additives.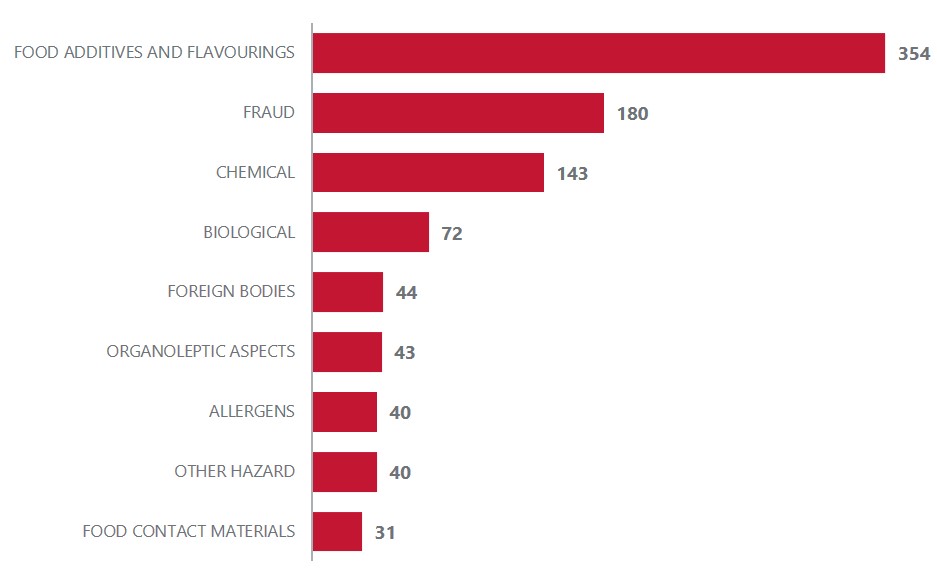 These have always been an issue; however a more recent and growing concern is the ability to guarantee the provenance and authenticity of a non-alcoholic beverage. With the increase in demand from consumers on understanding the origin of their food and beverages, non-alcoholic beverage manufacturers are placing emphasis on purity, heritage and transparency of production and the health benefits of their drinks.
---
Growing pressure for premium products
According to the European Fruit Juice Association, there is growing pressure from consumers for companies to produce premium fruit juices and smoothies that are healthier and more natural than ambient offerings. Manufacturers are increasingly going to great lengths to source high-quality fruit and vegetables for use in natural drinks and reducing the level of processing. These drinks tend to be in premium retail positions at a higher price, and as such, consumers expect good quality.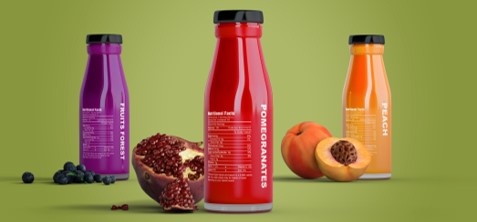 When it comes to natural juice drinks, data shows that inclusion of pesticides were among the highest food safety incidents. Meanwhile, fraud-related incidents were also prevalent relating to the incorrect labelling such as misbranding, insufficient documentation and missing nutritional information. For example, there are very strict rules on what can be classified as 'organic'.
The energy drinks subsector has seen an exponential growth, but it can be considered as a rather safe sector, with only 14 protection incidents recorded in the last five years, and half of these relating to a high content of food additives and flavourings.
---
How TheFSM novel technologies and philosophy can help
So how can food and drink producers, processors and manufacturers mitigate the risks across the global supply chain and ensure they conform to clearly defined quality and safety standards?
Firstly, a robust and remotely co-ordinated risk assessment and identification process will be deployed to prevent and mitigate food safety issues from the supplier through to production. Based on the continuous analysis of food recalls and rejections, from key national and international food authorities, food safety managers will set up an adaptive supplier verification process, monitor incoming materials, and update points of critical control in the entire production and supply process.
At the same time, digital tools such as the FOOADAKAI can gather, enrich and communicate accurate and up to date intelligence to provide Quality Assurance, Procurement, Food Safety and Quality departments with the current and future threats.  As a result, this information can create flexible and adaptive systems that enable food safety professionals to spot issues straight away, update points of critical control and intervene at any stage of the non-alcoholic beverages supply chain.
It is very important that in these uncertain times, the global supply chain remains unharmed. A break in one part of the chain can have major implications to the safety and availability of non-alcoholic beverages products in multiple countries.